22/01/2022
IRELAND ON THE INTERNET
Acute Engineering Surveys Ireland

Contact Details
About Acute Engineering Surveys Ireland
Acute Engineering Surveys
was established in 1998 and provides a service mainly to Architects, Consulting Engineers, Property Developers and Building Contractors.
Our company offers a wide range of reliable Survey Services all over Ireland, the UK and beyond, and with the vast experience of our work force, we produce top quality results each and every time. 

We always operate with the most up-to-date equipment which is regularly calibrated. All contracts are carried out by our qualified and experienced surveyors. Protected by Employer's, Public Liability and Professional Indemnity Insurance. We are a member of Constructionline and all employees hold a CSR Card.
At
Acute Engineering Surveys
we incorporate many different types of surveys into our services such as:
Land / topographical surveys
Measure building surveys
GPS surveys
Hydrographical surveys
GPR Surveys (ground penetrating radar)
Boundary Disputes
Drone Photography
BIM
3D Laser Scanning
Measured Floor Plans
Elevational Surveys
Sections
Reflective Ceiling Plans
Roof Plans
Verticallity Surveys
Monitoring
The company offers a wide spectrum of services using the very latest equipment with efficiency and speed. We offer a fast and competitive service and are fully accountable for all work carried out. We have a strong work force that are all fully qualified. Each employee is trained and has experience in the use of all equipment used which includes:
Trimble vrs GPS
Leica 1200 Smart Station
Leica Robotic Total Station
Each year our equipment is calibrated and checked. We have carried out surveys both locally (within Northern Ireland), Ireland and the whole of the UK.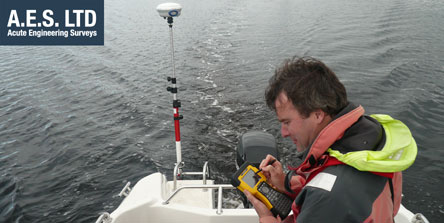 Topographical/Land Surveying & Setting-Out
The level of detail surveyed varies depending on the client's specification. This can range from a basic boundary and level survey to a fully detailed 3D Topographical Survey.
When required we also produce cross-sections, elevations, area and volume calculations.
Hydrographical Surveying
We have a number of small vessels equipped to carry out in-shore Hydrographic Surveys of canals, lakes, reservoirs, and rivers. Surveys are primarily undertaken with an array of echo-sounders and survey-grade GPS position fixing equipment. In addition to this Sub-Bottom Profiling, Sector Scanning and SideScan Sonar Techniques can be used to provide a fuller picture of the bed surface and sub-surface.
Our clients include:
Waterways Ireland
Rivervalley Developments
Harcourt Construction
Bilfinger Berger & HMM
Isle of Wight Council
Mc Laughlin & Harvey
CT Developments
Farrans
Lagans
Whitemountain
FP McCann
HJ Martin
Doran Consulting
White Young Green
Atkins
We have also carried out accurate surveying and setting out on site at:
Titantic Quarter in Belfast
George Best City Airport in Belfast
Mynt Bar (Elevation Survey) Belfast
Grosvenor Road
Royal Victoria Hospital
Click
here
to view some of our previous projects.
Acute Engineering Surveys Ireland Products & Services
Land Surveyors
Land Surveying
Topographical Surveys
Land Disputes
Project Management
Land Transfer Maps
Land Surveys
Hydrographic Surveying
Surveying Equipment Hire
Boundary Disputes
Building Site Set Out
Drainage Design
Location Map of Acute Engineering Surveys Ireland