17/02/2019
IRELAND ON THE INTERNET
Express Catering Equipment NI

Contact Details
Address
23a Downpatrick Road
Ardglass
County Down
BT30 7SF
About Express Catering Equipment NI
Express NI are suppliers of quality catering equipment and accessories. We are a family run business based in County Down and our aim is to offer you the best price possible alongside our friendly customer service. We strive to provide our customers with quality solutions and equipment suitable for the job it has been purchased for.
We have over 40 years' experience in the catering industry not just in equipment sales but as chefs and restaurant owners too so we have a good understanding of our customers' needs.
Express NI always like to quote our best price - so please email or call us with your requirements and we will promptly give you our best price. We are happy to quote on a like for like basis if you have an existing quote.
We are happy to provide you with a copy of our catalogue which outlines what we sell or take a look on our website where there are over 19 000 products - although please ask if you don't see what you need as we can't fit everything in the book or the website!
We offer many products on a next day service so please contact us for details.
We supply a wide range of customers including Hotels, Restaurants, Hospitals, Sandwich Bars, Take Aways, Nursing Homes, Churches, Sports Clubs and Private Individuals - whatever your requirements we will do our best to get you what you need within your budget.
We provide all the major brands of traditional catering equipment including:
Commercial Fryers
Microwaves
Dishwashers
Glass washers
Cookers
Commercial Refrigeration
Fridges
Freezers
Cold Rooms
Water Boilers
Griddles etc
In addition we offer a vast selection of Light Catering Equipment such as
Crockery
Cutlery
Napkins
Food Storage
Blenders
Thermometers
Pots
Panini Grills
Juicers
Mixers
Chef Knives
Bains Marie
Trolleys, Shelving
Chef Whites, Jackets, Shoes, Hats, Aprons etc
As well as traditional catering equipment we supply uniforms and have in-house embroidery and printing so we can personalise your garments with your name or logo.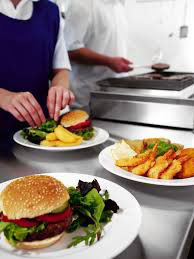 Location Map of Express Catering Equipment NI