02/04/2023
IRELAND ON THE INTERNET
Address
Unit B Hill Street Business Centre,
100 Hill Street
Lurgan
County Armagh
BT66 6BQ
Click for opening hours
Monday
Tuesday
Wednesday
Thursday
Friday
Saturday
Sunday
Closed
Other Dates
You are more than welcome to visit our workshop. However, because of the nature of our business, we are often out on site fitting new or servicing older, original clocks. Please phone us first to make sure that someone will be there before travelling.
About Canavan Clockmakers Outdoor Clocks Ireland
With a workshop in Lurgan, Co. Armagh, Canavan Clockmakers are established clock making specialists involved in every aspect of large exterior clock design, manufacture, restoration and maintenance.
Canavan Clockmakers manufacture a complete range of outdoor clock features - public clocks, pillar and projecting clocks, clock towers, cupolas and roof turrets. They look after and repair existing mechanical and electric public clocks, whether they were installed 40 years ago or 140 years ago.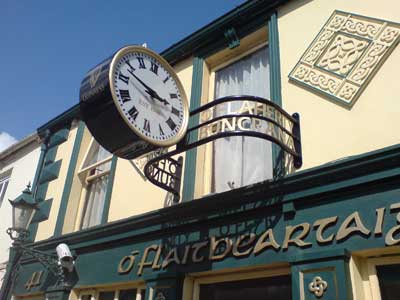 Canavan Clockmakers service customers throughout Ireland - North and South.
The firm are involved in every aspect of large outdoor clock and clock tower design, manufacture, restoration and maintenance.
Where required, they service all associated bell-ringing and bell-chiming functions and can update these with night-time silencing to stop the bells during the hours of darkness. Where the bells are not working correctly, they can fit automatic hammers to ring the original bells or even provide entirely new electronic bell chiming.
The firm manufactures a range of products suitable for domestic, commercial and public display. These include clock towers, cupolas, roof turrets, pillar clocks, projecting clocks, stable clocks and single faced clock features.
They use only the finest materials and components, and each and every item is comprehensively tested prior to installation. In short - all are stunning in appearance, but built to withstand all that the environment, rural or urban, can throw at them.
Canavan Clockmakers Outdoor Clocks Ireland Gallery
Location Map of Canavan Clockmakers Outdoor Clocks Ireland