22/01/2022
IRELAND ON THE INTERNET
About Hire Fitness Ireland North
Hire Fitness Northern Ireland
Fitness Equipment
Hiring fitness equipment is a fantastic new concept in home exercising. Everyone knows how important it is to keep fit and healthy, but with today's busy lifestyles, juggling work and family commitments, it is often difficult to find time to visit the gym.
Or it may be that the gym is just not your scene. 

We currently offer a range of the five most popular types of aerobic exercise equipment: cross trainers, treadmills, exercise bikes, rowers and vibration plates. All our home fitness equipment is top quality and fully computerized, and only differs from that found in the gym in that they are designed specifically to make them more portable, specifically for home use.
We deliver the equipment to your home, install it and give you basic instruction on how to use and maintain the equipment safely. There are no expensive joining fees and your minimum commitment is just 4 weeks. If you are serious about your fitness and sign up for a longer rental, we offer significant discounts along with equipment swaps, so that you never get bored.
Body Sculpturing
In addition, we also have exclusively available to hire, the latest ultrasound body sculpturing equipment. The Cavisculpt Home Model is the perfect way to sculpt and contour your body in the comfort of your own home. For more details, refer to the main website.
Event Hire
Whatever your event, we can provide you with fitness equipment props, treadmills, rowers, exercise bikes and elliptical cross trainers, for your event or film shoot. We have specially designed treadmills for use in green screen (Croma Key) work or sports wear photography when the upper part of the treadmill needs to be out of shot.
Office Gym, Commercial Clubs/Gyms, Hotel Gyms
With over 8 years' experience in the fitness industry, you can be assured you will be dealing with the best independent experts in the industry. Whether it is a small office gym or larger clubs, we have the ability to deal with your project, and offer a facility design service as part of the proposal. During the installation and training process, we have a trained team of exercise professionals who can give your team full induction training to ensure everyone is comfortable with the equipment features and programming.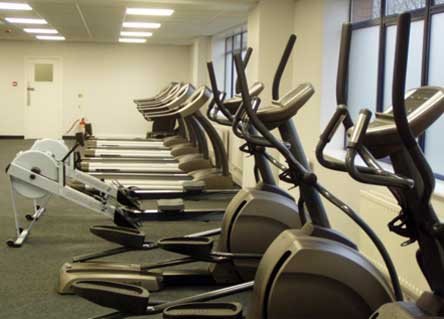 Other Features
Enjoy exercising at your own pace in complete privacy
State-of-the-art computerised fitness equipment
Leave the fitness equipment installation to our experienced personnel, and get set to achieve your health goals
Equipment folds and is fully portable for easy storage
Free, no-obligation home demonstration if you are not sure which piece of equipment would suit you best
Options to swap equipment to ensure you never get bored (subject to standard terms and conditions)
No membership or joining fees
If after renting you decide to buy, we will give you 25% of your rentals back as a discount against the purchase price (terms and conditions apply)
If you have any problems, then you will have full local support from our experienced team
Hire Fitness Ireland North Gallery
Hire Fitness Ireland North Products & Services
Treadmill Hire
Exercise Bike Hire
Vibration Power Plate Hire
Elliptical X Trainers
Elliptical Cross Trainers
Cross Trainer Hire
Exercise Equipment Hire
Fitness Equipment Hire
Spin Bike Hire
Cavisculpt Weight Loss Hire
Running Machine Hire
Beauty Equipment Hire
Twitter Feed

Facebook Feed
Reviews of Hire Fitness Ireland North

Review
Rachel Napier
Hired a treadmill from these guys and must say the professionalism and speed of service was exceptional. The treadmill was top notch too and very big/solid!
Hire Fitness Ireland North
5

out of

5
based on
1
ratings.
1
user reviews.
Location Map of Hire Fitness Ireland North